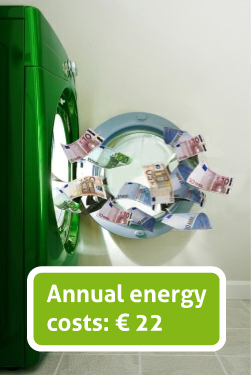 Welcome to the Energy Indicator project
The main objective of the 'Energy Indictor' (YAECI) project was to provide customers with information at the point of sale on the yearly running cost of products with an EU energy label, in order to stimulate the uptake of affordable energy efficient products.
The European YAECI (Yearly Appliance Energy Cost Indication) project was successfully completed on 19th March 2015. Consumers, consumer associations and many of the retailers who participated in the project remain enthusiastic about this initiative to display the average annual running costs in euros on their price tags of appliances, both in shops and online in addition to the Energy label, which consumers often do not really understand.
The calculation for the running costs was based on the following data:
cost per kilowatt hour (kWh/unit) based on Malta's average electricity prices
cost per liter based on Malta's average water prices (if relevant for the product)
data about a products' electricity consumption as included on the energy label.Data about the products' electricity consumption is consistent with the information on the energy label and the product manufacturers are responsible for providing this data for each product.
YAECI was a three year project co-financed by the European Intelligent Energy Europe (IEE) programme. Following the Dutch initiative the Energy Indicator ("EnergieWeter"), the average annual running costs in euros of domestic appliances and TVs are now displayed in hundreds of shops and web-shops throughout nine countries in Europe. Thanks to the project, consumers are likely to make a better informed purchase decision by not only taking the shop price of product into consideration, but also the annual running costs.
Our partners:
Icecat NV, part of iMerge BV, is the world's largest supplier of product content and distributes the content in more than 50 countries. It includes content for the IT, Consumer Electronics, Office Supplies and Telecom sectors. Icecat has more than 1.3 million data sheets available in 35 languages of 6000 brands and supplies the YAECI consortium with the product information required to calculate the energy cost indicator. See www.icecat.biz for more information.